We are your source for robes and accessories for many different uses! Please scroll down this page for the type of robe you need, then click on the link for more complete information, including pictures, prices and sizes.

Let our experience help you in the robe selection process with specific suggestions to ensure a selection you'll be happy with. We've been an expert supplier of robes all over the U.S. & Canada since 1979.
Interested in Murphy Robes? We are the retail dealer...contact us for your Murphy purchases.

Link to FABRIC DESCRIPTIONS, RETURN POLICY and FAQ (Frequently asked questions)

Contact us today! To request information, please navigate to your preferred category online catalog page, then use the link provided by each item.
Toll-free: 1-8-ONLY-ROBES (1-866-597-6237)
---
JUDICIAL
Judges- in a hurry? We specialize in quick fulfillment for the busy court. See the on-line catalog of 4 judicial robe styles available for immediate shipment. If you have time, custom robes can be made in any size, fabric or color.
For quick service, choose the ORDER FORM link by the styles displayed. Yes we can accept court purchase orders!
Judicial Robe Page
---
ACADEMIC

Academic Robe Page
Yes we can provide the college graduate or professor with custom Academic Regalia with the appropriate colors of hood, chevrons, etc. Also, if appropriate to your school, check our list and photos of prestigious universities that we supply with SPECIAL (usually non-black) doctoral regalia. Academic Regalia is made only on a custom basis, to fulfill the exact details of your degree and measurements in (where allowed) your choice of fabrics.
Soft velvet tams are a great alternative to mortarboards! For quick service, choose the ORDER FORM link by the products displayed.
Questions about protocol, requirements, etc? See our Regalia 101 page!
---
CAP & GOWN / KINDERGRAD / HONOR CORDS & STOLES / EVERYTHING FOR GRADUATION!
Looking for "one-time use" souvenir or rental graduation caps & gowns? See our Graduation department featuring "souvenir" robes for all ages from preschool to college. Single orders or groups- YES we can do rush orders! We have your graduation products like honor cords and stoles, tassels and MORE!
For quick service, choose the ORDER FORM link by the products displayed.

Graduation/Kindergrad Robe Page
---
LITURGICAL ATTIRE
| | |
| --- | --- |
| Vestments Page | Do you wear Liturgical Vestments? All the garments needed for the liturgical clergy are well represented here! Choose from a beautiful selection of Chasubles, Copes, stoles (including deacon stoles) and more in an array of gorgeous fabrics. We offer several brocades and gold metallic flecked fabrics, original embroideries and expertly tailored gothic designs. You'll find liturgical season colors, wedding vestments plus some extras. See our online Vestments/Liturgical Attire Catalog |
---
CLERGY SHIRTS

Women's Clergy Blouses

You'll find Clergy Shirts and Blouses here! Neckband and tab styles for men and women, in a selection of colors. See our exciting new Lydia line for women using wrinkle free cotton and tailored fit. See Men's only clergy shirts and garments OR Women's only clergy blouses and garments.


Men's Clergy Shirts

All Clergy garments Page
CLERGY GARMENTS
Does your pastor or YOU need a new pulpit robe or cassock? We can help! For immediate needs, see the on-line catalog of our Qwick-Ship line of pre-made pulpit robes and cassocks in standard sizes.In addition to the tied and true, we have exciting new styles and fabrics - truly special garments for that special pastor. We even have matching/coordinating garments for pastoral couples! See our exclusive fabrics! Looking for Pulpit Stoles only? Choose from Kente, Satin, Communion, Wedding, Easter, Christmas and liturgical season colors. See our online Paraments and Stoles Catalog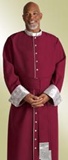 Men's Clergy Garments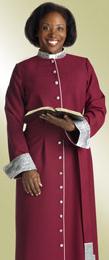 Women's Clergy Garments
See all clergy garment styles or limit your search to Men's only styles OR Women's only styles. If you have the time, create a custom pulpit robe, cassock, stole or altar parament design from the fabrics, colors, styles and monograms of your choice.
---
---
USHERS
| | |
| --- | --- |
| Beautiful and practical garments and accessories for ushers, deacons, deaconesses, or other leading church members. Make sure that your ushers are easily identified! See the on-line catalog of church garments available for immediate shipment. | Church Accessories Page |
---

Stoles/Paraments Page

STOLES & PARAMENTS

We have a wide selection of Paraments and Pulpit Stoles in stock for every church season and occasion. Choose from Wedding, Funeral, Advent, Communion, Easter, Christmas and liturgical season colors. Beautiful monograms to enhance the look of the sanctuary. See our online Paraments and Stoles Catalog.
---
CHOIR ROBES & STOLES
Choir robes are usually made on a custom basis, combining your style choice with the fabric and colors you select. For speed and economy, we do have a limited selection of pre-made ("Qwick-Ship) robes, surplices and stoles in sizes for children and adults. Any adult custom robe style can be custom tailored for children, but these ready-made "Qwick-Ship" styles provide a good quality washable robe at less expense than custom. See all the choices on our
Custom and Qwick-Ship Choir Robe Page
Want more questions answered? Click here for answers to common robe questions, our robe return policy, plus a great description of the fabrics we have to offer.
Please note that due to the high cost of catalog production we can only send 1 catalog to an official representative (head of robe committee, etc) of an organization actively shopping for custom choir robes. Please provide the organization name and address. Fabrics are not routinely sent, but are gladly supplied if our robe styles are a serious consideration for your upcoming robe purchase.
Request Adult Choir Robe Catalog


RSW/The Robe Shop Worldwide
TOLL-FREE: 1-8ONLY-ROBES (1-866-597-6237) * LOCAL: 425-402-3736
FAX (425) 486-0768 24hrs

Email: info@robeshop.com
Website text, graphics and design Copyright 1999-2008